Four Steps
To Purpose
---
The Big Picture
The First Step to Purpose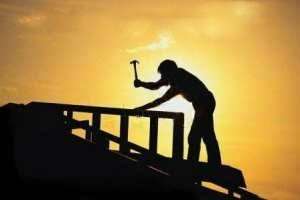 Do you think the builder in the picture above has the big picture? Of course he does, he referrers to it several times daily. He probably calls it the blueprint or the house plan. It is the plan that gives purpose to his work. As you read below, you will find a plan of a different sort. It is an overview of God's plan, The Big Picture.

---
Man Was Created to Have Fellowship
with the Holy God and Live Forever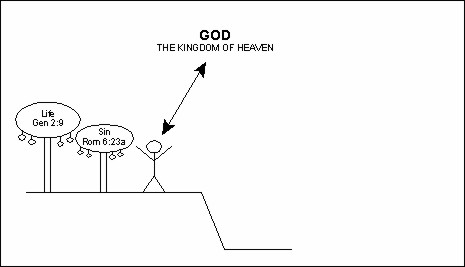 In the beginning God created man in His own image, to be holy as He is holy. He placed man on the earth in a garden and they enjoyed wonderful fellowship with each other.
Genesis 2:9 says, "And the LORD God made all kinds of trees grow out of the ground—trees that were pleasing to the eye and good for food. In the middle of the garden were the tree of life and the tree of the knowledge of good and evil."
Man was free to eat of the tree of life which would cause him to live forever! However, man was forbidden to eat of the tree of knowledge of good and evil (tree of sin). To do so would be to break God's law. God has eternal laws and one is: "The wages of sin is death" (Rom 6:23).




Sin Separated Man from God and Brought Death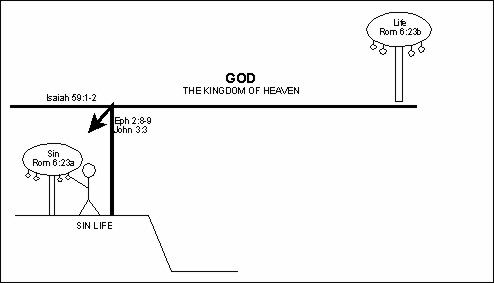 Being tempted by Satan, man sinned against God by eating from the forbidden tree. That one act of rebellion infected the whole human race with sin. Since that time, all of mankind have sinned and thus received the sentence of death. As the Scripture says, "There is no one righteous, not even one" (Rom 3:10). God certainly cares about man, but sin separated man from fellowship with God. God says, "Your iniquities have separated you from your God; your sins have hidden his face from you, so that he will not hear" (Isa 59:2).
Ever since man sinned, he has tried to regain purpose, eternal life, and fellowship God. He has created thousands of religions and false gods. Some have even claimed there is no God in an attempt to silence the conscience which cries out, "Guilty!"
Man has no ability to change himself or save himself. Good works cannot do it. All human attempts only serve to demonstrate man's fallibility and point back to the fact that man is enslaved to sin.
Only God has a way to save man and redeem him from sin. As the apostle Paul wrote to the Ephesians, "For it is by grace you have been saved, through faith—and this not from yourselves, it is the gift of God—not by works, so that no one can boast" (Eph 2:8–9).
Jesus said, "I tell you the truth, no one can see the kingdom of God unless he is born again" (John 3:3). Just as our natural birth did not come from ourselves, neither does salvation from sin and eternal life come from ourselves. We must be reborn by God to regain fellowship with God and eternal life.



Only Through the Cross of Christ Can Anyone Be Saved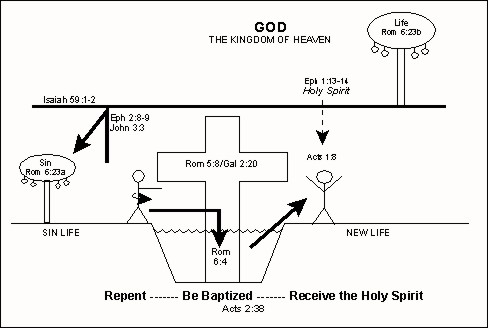 We have already learned from the first part of Romans 6:23 that the wages of sin is death. Now we also see from the rest of the verse that "The gift of God is eternal life in Christ Jesus our Lord" (Rom 6:23).
To provide a way for man to be saved from his sin, God Himself became a man, lived a sinless life, and then suffered and died on the cross. He did this to satisfy the requirement of the law which says: "The wages of sin is death." "God demonstrates his own love for us in this: While we were still sinners, Christ died for us" (Rom 5:8).
By dying on the cross as a perfect innocent man, Jesus paid the penalty of sin for all who believe on Him. He then rose from the dead and sent the Holy Spirit as a guarantee of salvation and eternal life.
The book of Acts records Peter preaching about this great salvation. Those who heard said, "What shall we do?" Peter instructed them saying, "Repent and be baptized, every one of you, in the name of Jesus Christ for the forgiveness of your sins. And you will receive the gift of the Holy Spirit" (Acts 2:38).
Though salvation is a gift and is not of ourselves, we still must respond. In the salvation experience, we identify with Christ in His death, burial, and resurrection. Consider the Scripture passages below.
I have been crucified with Christ; it is no longer I who live, but Christ lives in me; and the life which I now live in the flesh I live by faith in the Son of God, who loved me and gave Himself for me. —Galatians 2:20
We were therefore buried with him through baptism into death in order that, just as Christ was raised from the dead through the glory of the Father, we too may live a new life. —Romans 6:4
One who is sincere will obey the command of God to repent and be baptized.
• To repent is simply to forsake the sin life and turn and walk toward God.
• To be baptized is to identify with Jesus' death and resurrection.
• Those who do this will receive the Holy Spirit and the power to live a new life free from the power of sin.
But you will receive power when the Holy Spirit comes on you; and you will be my witnesses. —Acts 1:8
Jesus and His Kingdom Will Come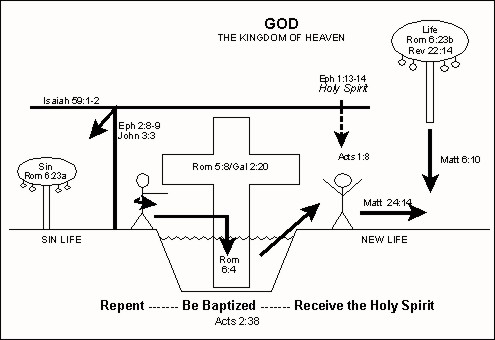 A person who receives the Holy Spirit is born again. The Holy Spirit literally comes to live in that person and fellowship with God is restored. The Holy Spirit is also the guarantee of eternal life that is to come.
And you also were included in Christ when you heard the word of truth, the gospel of your salvation. Having believed, you were marked in him with a seal, the promised Holy Spirit, who is a deposit guaranteeing our inheritance until the redemption of those who are God's possession—to the praise of his glory. —Ephesians 1:13–14
Jesus has promised to return and establish His kingdom on earth. He told us to pray, "Your kingdom come, your will be done on earth as it is in heaven" (Matt 6:10). At this time the dead will be raised and all who are alive and remain will once again have access to the tree of life.
Blessed are those who wash their robes, that they may have the right to the tree of life. —Revelation 22:14
When will this be? When Jesus has completed his work through us. Jesus said, "And this gospel of the kingdom will be preached in the whole world as a testimony to all nations, and then the end will come" (Matt 24:14). Eternal life and immortality will then be a physical reality though it is a present reality in the hearts of all who are born again.

---
Go to Step Two:
Eliminating Objections


---