Purpose Ministries
P.O. Box 5004
Coralville, IA 52241
---

presents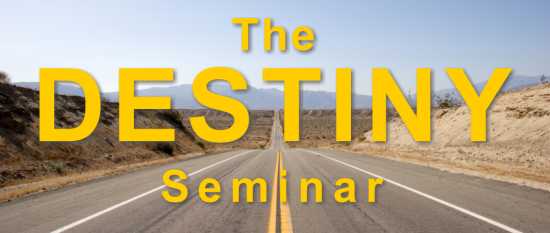 The Destiny Seminar is a refreshingly practical. In this one-day event you can uproot common misunderstandings about God's plan for the earth and establish a foundation for purpose in your life!

Why The Seminar?
As Christians, we are deeply concerned about the spiritual and moral decay around us. We want to see the biblical principles that were once prevalent in our society restored to prominence in public and private lives. We sense the urging of the Holy Spirit in our hearts to enter this culture war and get involved in the social issues that face our world. Yet most of us struggle with an underlying belief that says, " What is the use? We can't really win; things are just going to get worse." This "disagreement" between our hearts and our heads is a serious obstacle to our progress. It clouds our vision, distorts our destiny, and confuses our purpose. The DESTINY SEMINAR will expose the roots of this "disagreement" provide purpose, and set you on a straight path to your destiny.
About The Seminar
Jesus came to earth and engaged an intense culture war. He confidently gave testimony of the plan of God for the earth. When his validity was questioned, He said, "...My witness (or testimony) is true, for I know where I came from and where I am going...(John 8:14 NKJV). Here we see an essential key for being effective in our culture. Jesus was confident and His witness was valid because He understood the past and He saw the future. In other words, He knew His purpose.
We too need a clear and confident testimony if we are to make a difference in our culture. However, the anti-Christian forces have a working strategy to disconnect us from our past and distort our understanding of the future. The result has been a Church that is essentially ineffective in this present culture war with little confidence or expectation to make a difference. The DESTINY SEMINAR is designed to build a solid foundation for a confident witness in the present by restoring biblical foundations concerning the past and the future.
Where You Came From. First we will do some backtracking. By learning some eye-opening historical facts, we will begin to gain a new sense of purpose and understand why we are here.
Looking to the Future. Then we will look to the future. It is amazing how the enemy has distorted our view of the future. We will clarify some of the unbiblical ideas that are commonly held by Christians.
Focus on the Present. Next, we will focus on the job we are called to in the here and now. Having a clear purpose and a fresh vision for the future, we will learn the God-given strategy by which we engage the culture.
---
Contact us for information on hosting a Destiny Seminar for your group.